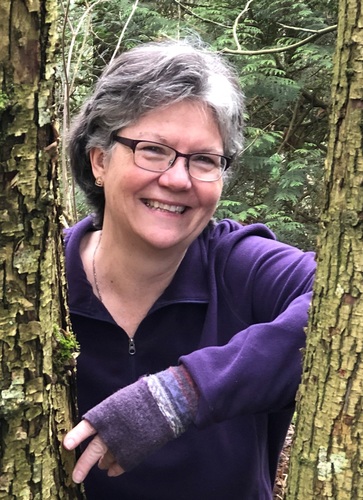 Hilde is close to celebrating three years with United Churches of Langley, having arrived from Vancouver Island in December of 2016.
As a child, when not climbing trees, she wandered the halls St. Paul's United Church in Oakville Ontario, or played hide and seek in the basement while her Mom attended UCW, fixed the taps in the kitchen or her Dad scoured the library preparing to teach Sunday School the next day. Hilde confesses to being a 'Jesus Freak' in her youth but soon discovered that acts of kindness were more respected than trying to intimidate others into believing in Jesus. She attended her first Presbytery gathering at the age of 17 and continues to claim she likes meetings. Hilde has served with congregations in Consort Alberta, 100 Mile BC, and Parksville BC.
As our Minister of Adult Faith, Pastoral Care and Outreach, Hilde is passionate about respectful relationships, sharing her love of creation, animating the Holy and listening to people stories. She loves asking hard questions and questioning easy answers. Silence, walks in the forest, preaching, splashing in puddles and reading the works of mystics are among her spiritual practices. On Sunday mornings don't be surprised to find Hilde without socks and shoes as she leads worship. She will tell you – "I feel calmer, and more grounded when I worship in bare feet."
On a sunny warm day, Hilde and her spouse Char will head out on their Kawasaki motorcycles to enjoy the open road. They also love to play kitchen bridge, walk on the beaches together and head out on their bicycles to explore neighbourhoods and parks.