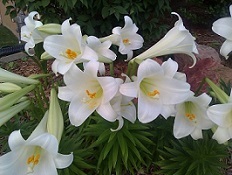 EASTER
Ashes, Agony, Accusation
Beaten and Bleeding, asked to Bear the
Crown of Thorns, the Cross, the Crucifixion
Darkness, Desertion and Despair.
Easter Friday – and then the prayer
"Father forgive them."
Golgotha – the
Hill, the Hell – where
Innocence ignored
Justice denied – the
King of Jews was crucified
Lonely and Lost – it wasn't the same.
Mary and the others silently came
Nervous were they only to find – an
Open tomb and an angel stood there
Prayerfully they asked, "The body if Jesus, where oh, where?"
Quietly, the angel said "Why look for the Living amongst the Dead?"
Rejoicing, Rejoicing, the Resurrection. The
Saviour is risen!!
Triumphant
Unbeaten
Victorious – a
Winner – who, Low and Behold
eXtended Light and Love – to the
Young and the Old – and continues to lead, no need to roam – to
Zion, our Everlasting, Spiritual Home.
—Edna Marynowski