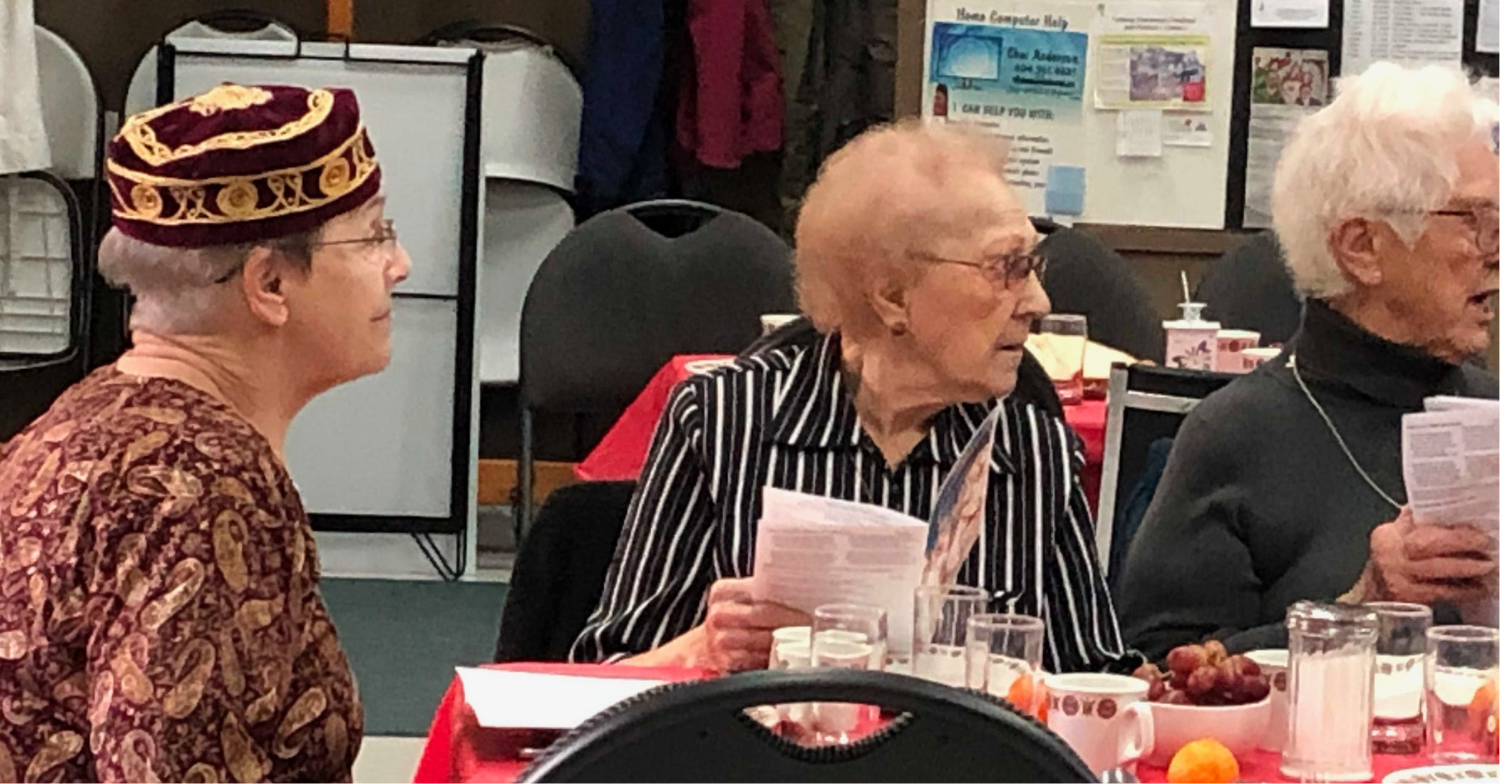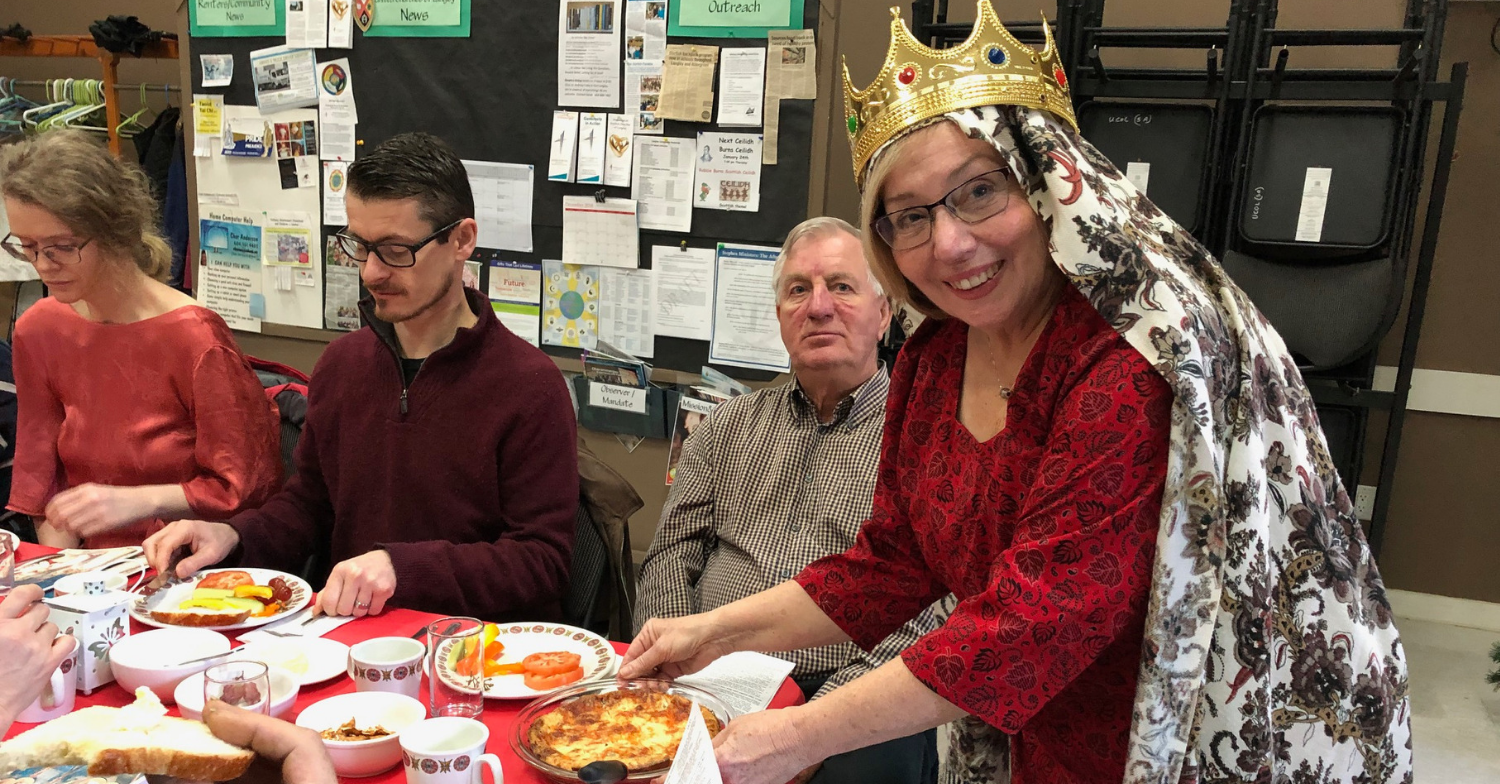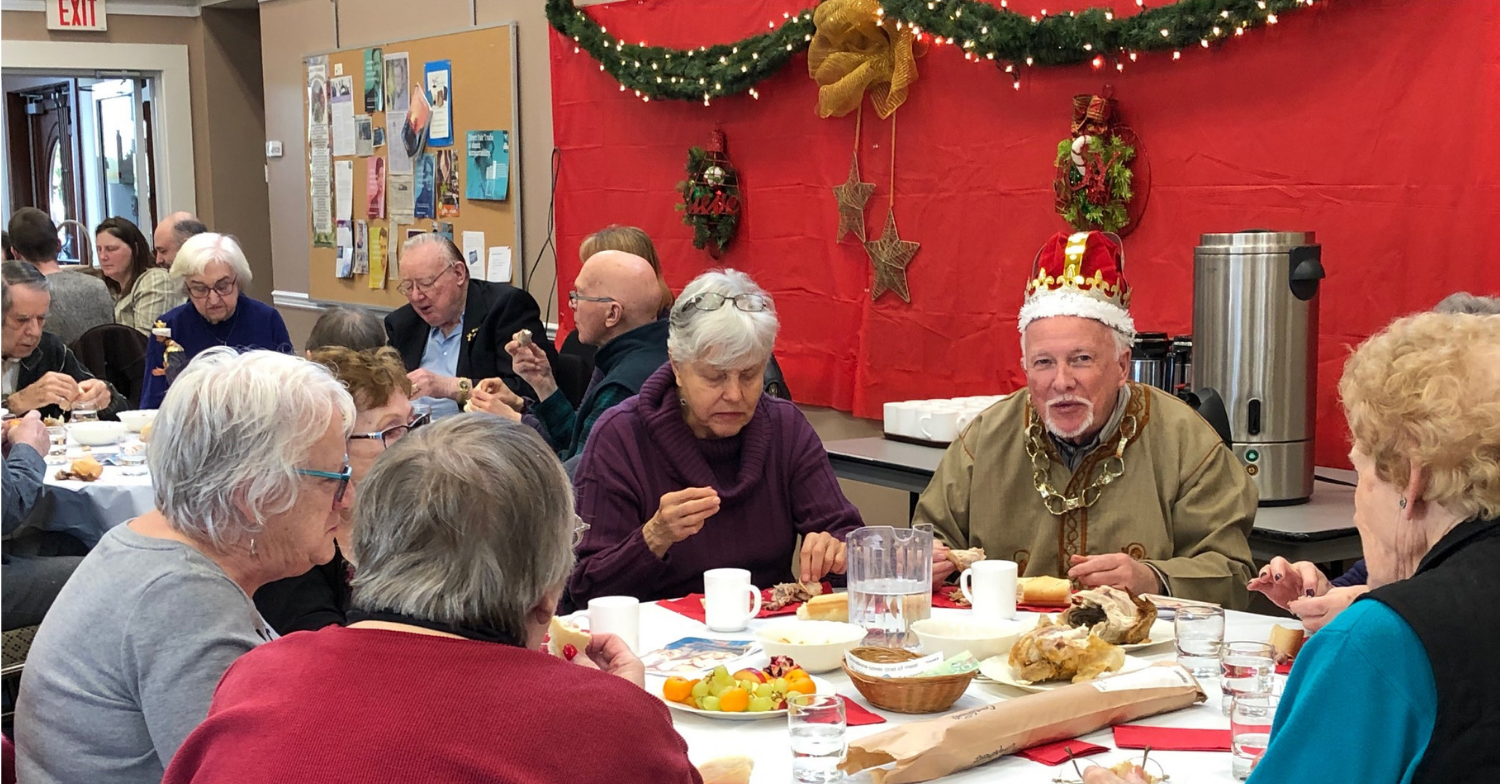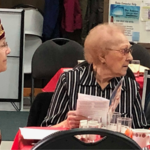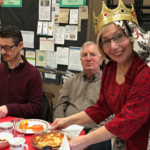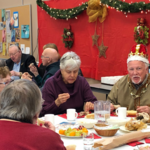 'The Magi's Journey Home'
-an interactive play set in the time of Jesus' birth-
January 6, 2019
We gathered at tables in the hall. It all started like other Sundays, but we knew it was going to be different. Soon two Sentries came talking about a star and one climbed a 'tower' to keep watch. We heard scripture and sang hymns. Then the Head Cleric was telling us about a caravan of Magi that would visit us and tell us about the child that caused so much fear in Jerusalem, but whom we welcomed because he would lead with love and compassion. After the Magi joined us, a feast was brought to the tables and we shared our stories of God's amazing love for all humankind.
Scripture – Matthew 2:1-8
In the time of King Herod, after Jesus was born in Bethlehem of Judea, wise ones from the East came to Jerusalem, asking, "Where is the child who has been born king of the Jews? For we observed his star at its rising, and have come to pay him homage."
When King Herod heard this, he was frightened, and all Jerusalem with him; and calling together all the chief priests and scribes of the people, he inquired of them where the Messiah was to be born. They told him, "In Bethlehem of Judea; for so it has been written by the prophet:
'And you, Bethlehem, in the land of Judah,
are by no means least among the rulers of Judah;
for from you shall come a ruler
who is to shepherd my people Israel.'" (Micah 5:2)
Then Herod secretly called for the wise ones and learned from them the exact time when the star had appeared. Then he sent them to Bethlehem, saying, "Go and search diligently for the child; and when you have found him, bring me word so that I may also go and pay him homage."
Hymn: The First Nowell VU 91 v1,2,3
Scripture – Matthew 2:9
When the Magi had heard the king, they set out; and there, ahead of them, went the star that they had seen at its rising, until it stopped over the place where the child was.
Hymn As With Gladness, Sages Bold VU 81
Scripture – Matthew 2: 10-11
When they saw that the star had stopped, they were overwhelmed with joy. On entering the house, they saw the child with Mary his mother; and they knelt down and paid him homage. Then, opening their treasure chests, they offered him gifts of gold, frankincense, and myrrh.
Hymn The First Nowell VU 91 v4
Cleric:
People of Hebron… we have been watching the star for some time now, and last month it stopped over Bethlehem. Our scouts have discovered that a prophecy has unfolded before us. An important child has been born… a child that will rule with justice and compassion. Yet all of Jerusalem is clouded in fear. Wise ones from the East followed the star and brought gifts. We have invited them to come to our fair city on their way home. We will welcome them and hear their story of the child.
The God of hosts and deep joy has blessed us this day.
Scripture – Matthew 2:12
And having been warned in a dream not to return to Herod, they left for their own country by another road.
Magi are escorted in:
Magi A - Thank you for your welcome friends.
Sentry B - I saw the star… tell us about the star.
All the people: He saw the star….tell us about the star!
Magi D - We followed the star from our own country for over two years. It was an amazing journey, and we met many kind and wonderful people.
Magi B - When the star stopped we found the baby and his parents and the kind innkeepers and all their wonderful family. And shepherds came from the fields… they spoke of angels. It was all so …. amazing … so … sacred… the Creator was very present!
Magi C - We gave the child our gifts… Gold… Myrrh… Frankincense.
Magi E - We have great hope that this child will change the world.
Sentry A - Yes… we believe that God will do a great thing among us.
Sentry B - A light has come among us.
All the people: A light has come among us.
Hymn Will You Come and See the Light VU 96