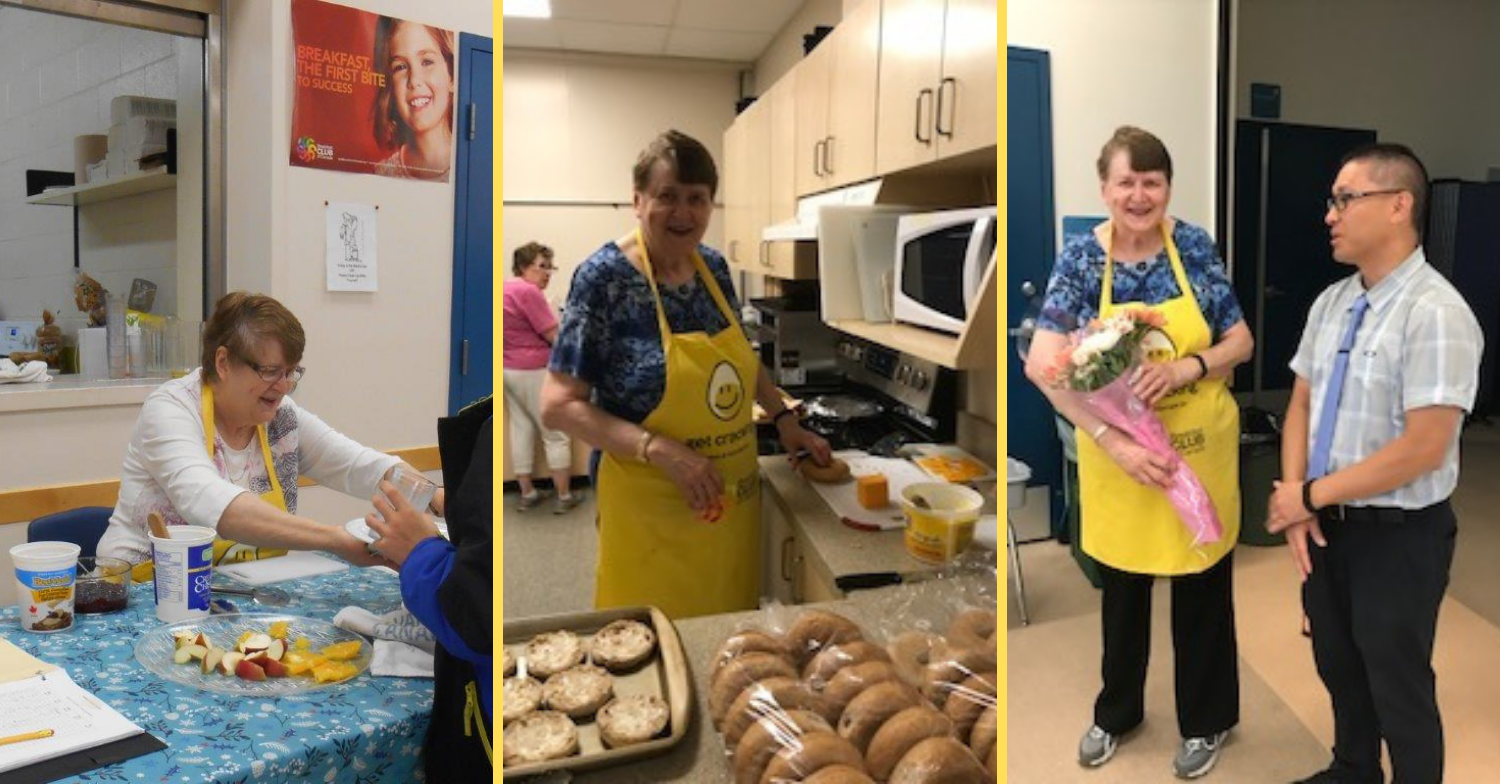 After working with the Nicomekl School Breakfast Program for more than 20 years since its conception, Arlene Pike has retired at the end of June. On her last day, Mr Joo, the school principal, thanked her on behalf of the school and the children and presented her with a lovely bouquet.
She remembers how it all started.
In the 1990s, a couple of volunteers from the community and the Scout group that met at Langley United Church started a breakfast program at Nicomekl Elementary School. They asked Jim Boyd, a member of the Langley United Church, to help and soon he invited several people from our church to help. "I was teaching part-time, and Wednesday was my day off, so I would go to Tim Hortons and get muffins. Other people covered the other weekdays."
Over the years the group worked on increasing the nutritional value of the meals. They now serve bagels with the choice of cream cheese, jam or honey. Some days of the week, children get cereal or waffles, and now and then, for a special treat, pancakes. Drinks include milk, water or juice. "We have encouraged them to eat fresh fruit, but mostly they say, 'No, thank you,'" chuckles Arlene.
Several years ago, this dedicated group started serving egg muffins with cheese, which have been an enormous success.
"I think this program has been a very worthwhile endeavour because I'm sure many children do not get a proper breakfast for whatever reason, and who can concentrate on an empty stomach?"
"As I am retiring, I would like to thank all the partners I've worked alongside. It is a great way to get to know people. If you like children and can spread butter on a bagel, this is the job for you! The children arrive starting at 8 am, and the bell rings at 8:45. With some preparation time before and clean up after it is only about 1.5-2 hours in total, so consider joining the team. It must be fun if some of us have done it for two decades!!!!"