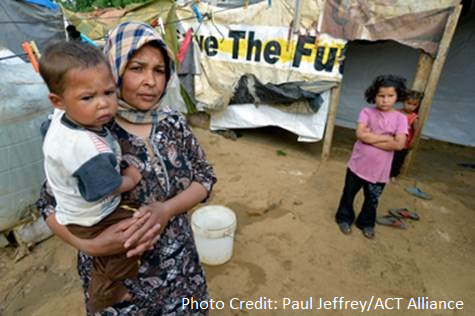 The Moderator of The United Church of Canada, The Right Rev. Jordan Cantwell, is urging your participation in a church-wide appeal for Syrian refugees who are seeking relief from protracted civil war in their country. In her first letter as Moderator to the church's members, she writes:
"We are called at this particular time to witness in a concrete way to our Christian faith in response to the needs of millions of desperate people seeking refuge and compassion."
You can read the whole letter here.
Three Ways You Can Help Syrian Refugees
Donate Now
Please provide your support today. Donations received and designated "Syria Relief" will be applied directly to support United Church Mission & Service partners and associates in this work. The Canadian government will match, dollar for dollar, donations of individual Canadians made between September 12 and December 31, 2015. Place a cheque with your donation into the offering place during Sunday worship. All cheques should be made out to The United Churches of Langley with a note "Emergency Response—Syria Relief" on the face of your cheque.
Pray
Pray for the millions of Syrians facing conflict and displacement.
Pray for the host communities in the region who welcome those seeking refuge from the conflict.
Pray for United Church Mission & Service partners and humanitarian relief agencies working to meet the needs of those affected.
Pray that regional governments and the international community will work together to address the current crisis, end the conflict, and help bring peace to Syria and the region.
You may want to use A Prayer for Peace in Syria [RTF: 1 p/42 KB].
Sponsor Refugees
The General Council Office has been supporting efforts by faith communities in Canada to sponsor the resettlement of Syrian refugees since the conflict began. Learn more about sponsoring a refugee.