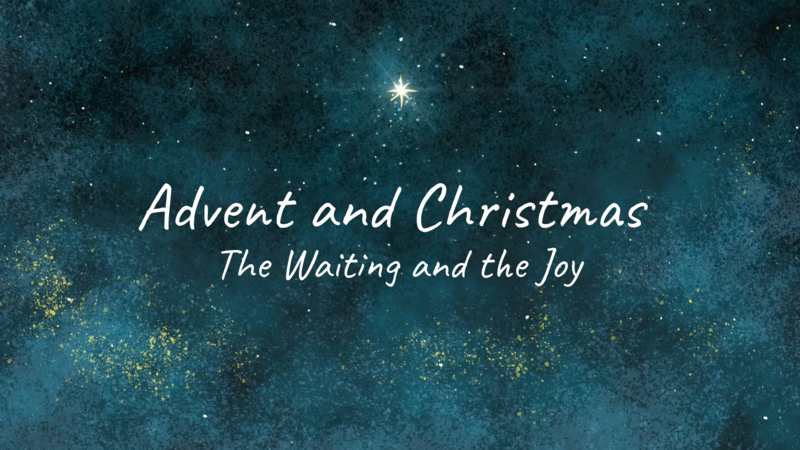 Happy New Year!
On this very first Sunday of the Church year,
churches all over the world are singing
the age old pleas heard in Advent.
Come Emmanuel ... save us from the darkness... bring new light....
fulfil our urgent expectations....give us quiet peace...
be our hope beyond hope.
The word Advent ....is from the Latin verb "to come":
Thus our hymn.... O Come, O Come Emmanuel.
We can sing it loudly and with gusto,
or sing it softly, with a longing and an intense desire.
In Advent there is a desire that Emmanuel... 'God with us'
will be real and present.
An expectation that Emmanuel will come and put an end to our anxious longings.
Advent is .... about longing and waiting, and waiting and longing.
There is an expectation... even if... and even when... we know the story.
Did you remember that it was the first Sunday of Advent
as you prepared to come here this morning?
I wonder if you have come to this place,
to escape the hustle and bustle of society outside these walls...
hoping for a bit of quiet.
Certainly yesterday ... we had a great deal of hustle and bustle
here in our building.... during the Holly Luncheon and other wonderful activities.
I imagine that you expected that to have changed, by this morning.
The candle called Hope still burns brightly.
If we honour the Advent waiting... Advent Hope,
will prepare the way - for our God to break in...
for God to come to us, in a tiny babe, in a manger.
Paul .. with Silvanus (Silas) and Timothy, had started a church in Thessalonica.
They had built a relationship with the people there,
shared their faith in the Christ, and many had believed and followed.
But they had to leave, as opposition to their message
grew among other members of the synagogue.
After a time Timothy was sent back, to see how the people of Thessalonica were doing.
Timothy reported to Paul, and his report overjoyed Paul.
Paul celebrates their faith and their love.
Paul thanks God... for the joy, the people of Thessalonica give to him.
His letter encourages, celebrates and instructs them.
Paul can do this because of the relationship, he built with them.
Paul offers hope to the faithful.
Hope in times of change and struggle and new beginnings.
But what is hope? Besides the name of an Advent Candle?
It's a pretty common word, we hear it all the time.
I hope my friend Carol reads my text.
I hope I get to the store before they run out of fresh turkey.
I hope it doesn't snow.
We do use the word HOPE.... in some crazy - common ways.
We use it in very ordinary ways....and make it sound like such an ordinary word.
but I am not so sure it is .... an ordinary word.

I think there is not more to the word hope than – the weather ....getting a text...
finding something... or getting an errand done.
We have diluted the word!
Hear these definitions:

Hope is an optimistic state of mind that is based on an expectation of positive outcomes ...
with respect to events and circumstances in one's life or the world at large.
As a verb, its definitions include: "expect with confidence" and "to cherish a desire with anticipation."
If you are without hope...there is dejection, hopelessness, and despair.
We who follow the Christ believe that hope is
'the assurance of things hoped for, the conviction of things not seen" (Heb 11:1).
We believe that hope can be unyielding,
because it is grounded in the word and love of God.
Hope, crazy hope is about divine things, Holy things,
events with mystery and substance.
We may spend time in the 'dark night of the soul'...
but the light is always present for us to lean into.
And sharing hope is never ordinary.
Sometimes it is Crazy Simple... like putting socks or a hat,
on our Giving Tree.
I remember the story of a youth who went to rain prayer-rally.
There had been three months without rain, and the whole town gathered to pray.
As the leader of the rally, said the words... Let us pray:
Riley was the only one to put up an umbrella!
Hope, crazy hope!
The seeds of Hope are among us!
Holy seeds....
But seeds need tending, with nurturing they will grow.
Hope is not a mental exercise.
You don't just stand up and decide that you are going to be hope-filled.
Hope is the result of a combination of encounters with others, our personal openness,
and our awareness of the spiritual power of love that infuses all of life.

This Crazy Hope finds truth in the breaking of bread, and the pouring out of the juice.
There is hope in the feast shared... the community gathered...
and the mystery of God with us.
Advent is a time to build hope.
Advent is a time to prepare for Christmas by tending the hope-filled seeds
within each other, and by opening our eyes to the Christ growing within us.
Advent is a time to acknowledge that at the heart of our world
there is a power of love that reaches out to us,
believes in us and sustains us,
and that power of love.. is God.
And with Love....Hope, crazy hope... grows... and you are invited to be a part of it.